Are you feeling it too with the first rays of sunshine...summer & parties!
A buffet for your party or at work?
We provide you with a delicious healthy organic buffet with original flavours.
No worries for people with allergies, as everything at our place is gluten-free, other allergens are clearly listed per dish.
There is a vegan, veggie and flexi buffet. At the flexi buffet, there are also veggie and vegan dishes so there is always something for everyone.
The buffets are provided cold but certain dishes can also be served hot.
In addition, we have worked out a salad buffet to complement your barbecue. Then you only have to think about the barbecue because we will take care of the rest.
All our formulas can be as little as 12 people. Depending on the number of people, you can choose between 4 and 8 dishes.
We deliver the dishes ready-made.
Free delivery in greater Tervuren and suburbs.
All buffets are on application according to availability.
COLD BUFFET VEGAN
Salad of noodles, aubergine, mango, cabbage and citrus vinaigrette ????
Full rice salad with paprika, pink pepper and currants
Salad of grilled aubergine, tomato, chickpeas, harissa and tahini ????
Salad with fennel, orange, olives and grilled almonds
Salad of chips, broccoli, white beans, lemon and pesto
Salad of grilled courgette, lentils, tarragon, tofu bacon and flowers????
Sorghum salad with tomato, onion, chilli coconut yoghurt and pomegranate

 

Raw vegetable salad with quinoa, pomegranate and sweet and sour vinaigrette
??? Chef Michèle's tip
COLD BUFFET VEGGIE
Salad of noodles, aubergine, mango, cabbage and citrus vinaigrette ????
Full rice salad with paprika, pink pepper and currants
Salad of grilled aubergine, tomato, chickpeas, harissa and tahini ????
Salad with fennel, orange, olives, feta cheese and grilled almonds
Salad of chips, broccoli, white beans, lemon and pesto
Salad of courgette, lentils, tarragon, manouri cheese and flowers ????
Sorghum salad with tomato, onion, chilli yoghurt and pomegranate
Raw vegetable salad with quinoa, pomegranate and sweet and sour vinaigrette
??? Chef Michèle's tip
COLD BUFFET FLEXI
Salad of noodles, aubergine, mango, cabbage and citrus vinaigrette ????
Full rice salad with paprika, pink pepper and currants
Salad of grilled aubergine, tomato, chickpeas, harissa and merguez ????
Salad with fennel, orange, olives, feta cheese and grilled almonds
Salad of chips, broccoli, white beans, lemon and pesto
Salad of grilled courgette, lentils, tarragon, manouri cheese and flowers ????
Sorghum salad with tomato, onion, chilli yoghurt and pomegranate

 

Salad with carrot, radish sprouts, farmhouse chicken, mango and cashew vinaigrette 
??? Chef Michèle's tip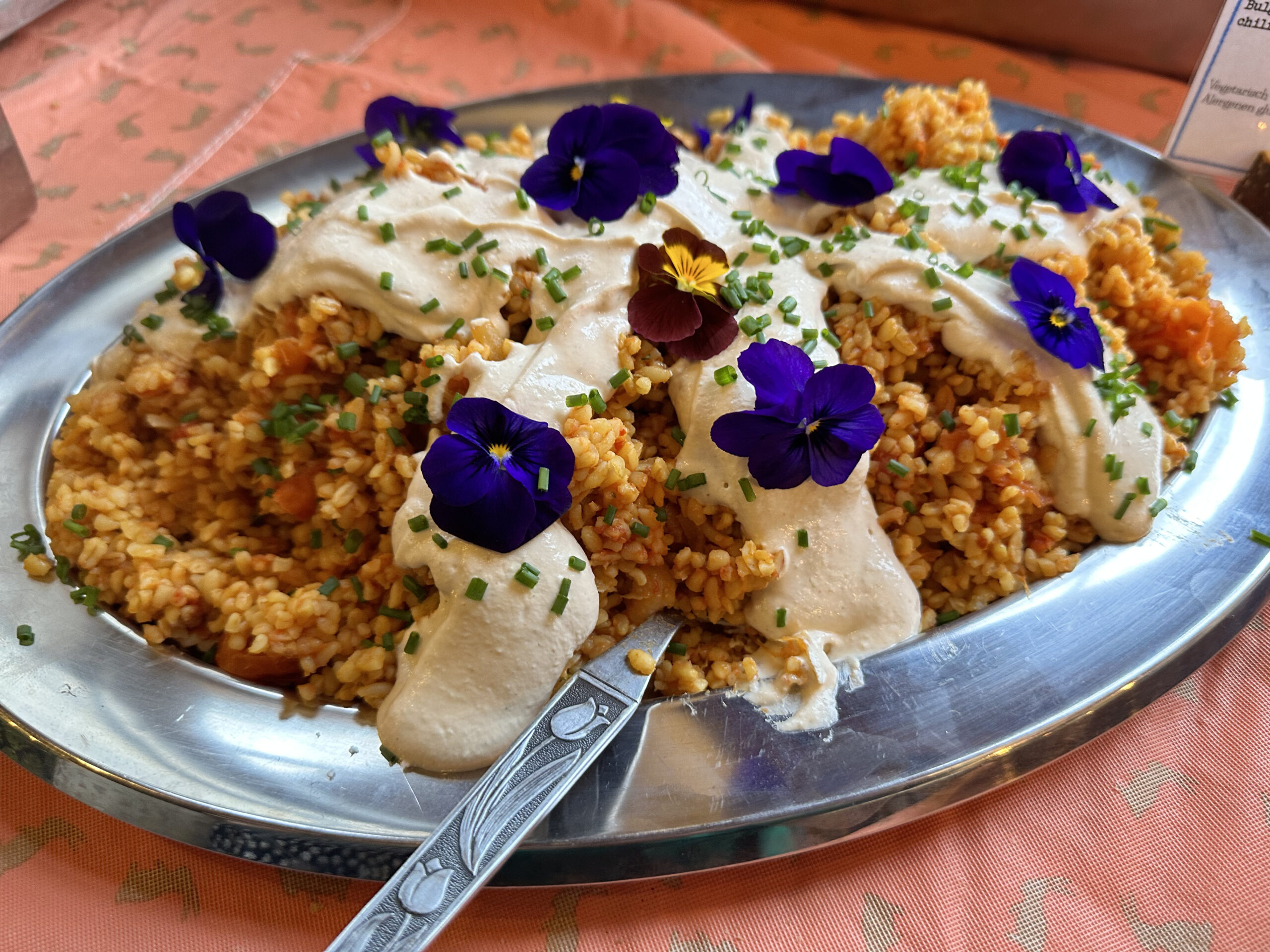 SALAD BUFFET FOR BBQS
Salad of noodles, aubergine, mango, cabbage and citrus vinaigrette ????
Full rice salad with paprika, pink pepper and currants
Salad of grilled aubergine, tomato, harissa and tahini ????
Salad with fennel, orange, olives and grilled almonds
Potato salad with pesto
Salad of grilled courgette, tarragon, lentils, spinach and flowers????
Oakleaf salad with sweet potato, mango, carrot and cashew vinaigrette
Raw vegetable salad with quinoa, pomegranate and sweet and sour vinaigrette
??? Chef Michèle's choice
BUFFET GUILT-FREE DESSERTS 
vegan, gluten-free, naturally sugared
Mini caramel bar with chocolate and hazelnuts

 

Tart of chocolate mousse
Cheesecake lemon
Caramel cake
Tart of beetroot, cardamom and rosewater
Coffee cake with coconut
Cheesecake lime - matcha
Tiramisu cheesecake
Price per person:
Cold buffet vegan: 32.9 euros per person
Cold buffet veggie: 35.5 euros per person
Cold buffet flexi: 37.9 euros per person
Salad buffet for BBQ: €19.9 per person
Buffet guilt-free desserts: €12.5 per person
Number of dishes/desserts:
From 12 to 20 people, 4 dishes
From 21 to 30 people, 6 dishes
From 31 to 50 people, 8 dishes