9-day liver detox with free guidance
Next 9-day liver detox starts on Monday, March 6, 2023!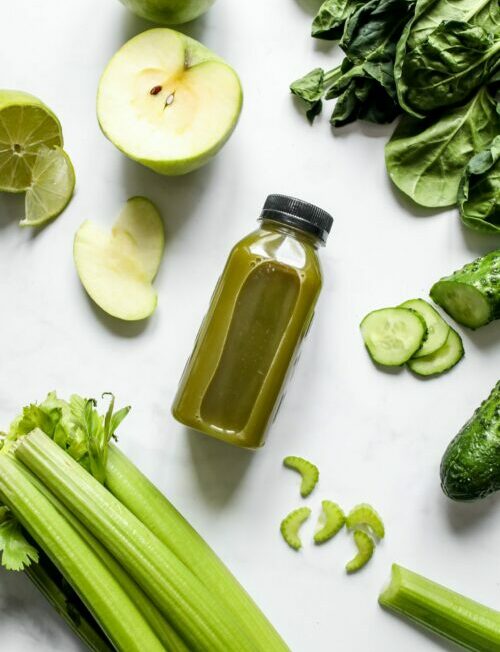 The 9-day liver detox package
New start on Monday 6 March to Tuesday 14 March 2023.
Our 9-day liver detox package provides all juices, breakfast, lunch and dinner for the 9 days.
We also provide the necessary mental support during a number of zoom meetings.
All our juices, meals and nutritional supplements ( dulse, barley grass, spirulina, pitaya) are organic.

9-day liver detox for 438.90
Pick-up point Tervuren, Overijse and Hoeilaart
Home delivery Tervuren, Leefdaal, Sterrebeek + 49.00
15 places available

9 X pure celery juice ( 500ml day 1-3, 750ml day 4-6, 1 l day 7-9)
9 x breakfast
9 x lunch
9 x dinner
8 X snack (2 apples + 2 medjool dates)
1 X portion of pure ketchup as seasoning
1 X portion of pure vinaigrette for seasoning
50 g hibiscus

zoom meetings
Medical Medium
With our 9-day liver detox, we follow the 3:6:9 cleanse from the book Cleanse to heal from Anthony William, better known as Medical Medium.
Anthony was four when he discovered he had the gift of flawlessly naming people's health complaints and diseases. He has since become a worldwide phenomenon, inspiring millions of people, from sports athletes to doctors.
His life's mission is to make people aware that nutrition is at the root of many modern diseases.
He particularly emphasises the function of the liver. ( Not if you choose home delivery)
In his book Liver Rescue he describes how our liver is working overtime due to our western dietary habits and that therein lies the cause of many chronic diseases and complaints such as burnout, obesity, high blood pressure, cardiovascular disease, depression and all kinds of chronic conditions.
Why a 9-day liver detox?
The liver is one of the most important organs in our body.
Our liver ensures that we absorb nutrients from the blood, makes toxins harmless and cleans up waste products. Some 600 processes take place in this complex organ.
In our current Western way of life, the liver is flooded with toxins and poisons from food, water, air and our environment. This makes it increasingly difficult for the liver.
During our detox, we are going to maximally decongest our liver so that it can focus on cleaning and rejuvenating all the cells in our body. You appeal to the body's self-healing ability so that it can reset or heal itself.
Everyone benefits from this 9-day liver detox even if you have a healthy lifestyle. After all, certain toxins cannot be avoided even if you eat consistently healthy.
Appointments
This detox requires great personal commitment and perseverance. We are going to loosen deep-seated toxins and pathogens, this gives (mild) symptoms of illness in everyone. Perseverance is the key. If you want results, you have to stick completely to the plan.
Daily visit to collect your juices and meals of the day (not if you opt for daily home delivery)
What you still need to provide yourself is for every morning and evening 500ml of water with half a squeezed lemon or 1-2 limes
Try to build in some rest wherever possible especially the first two and last day.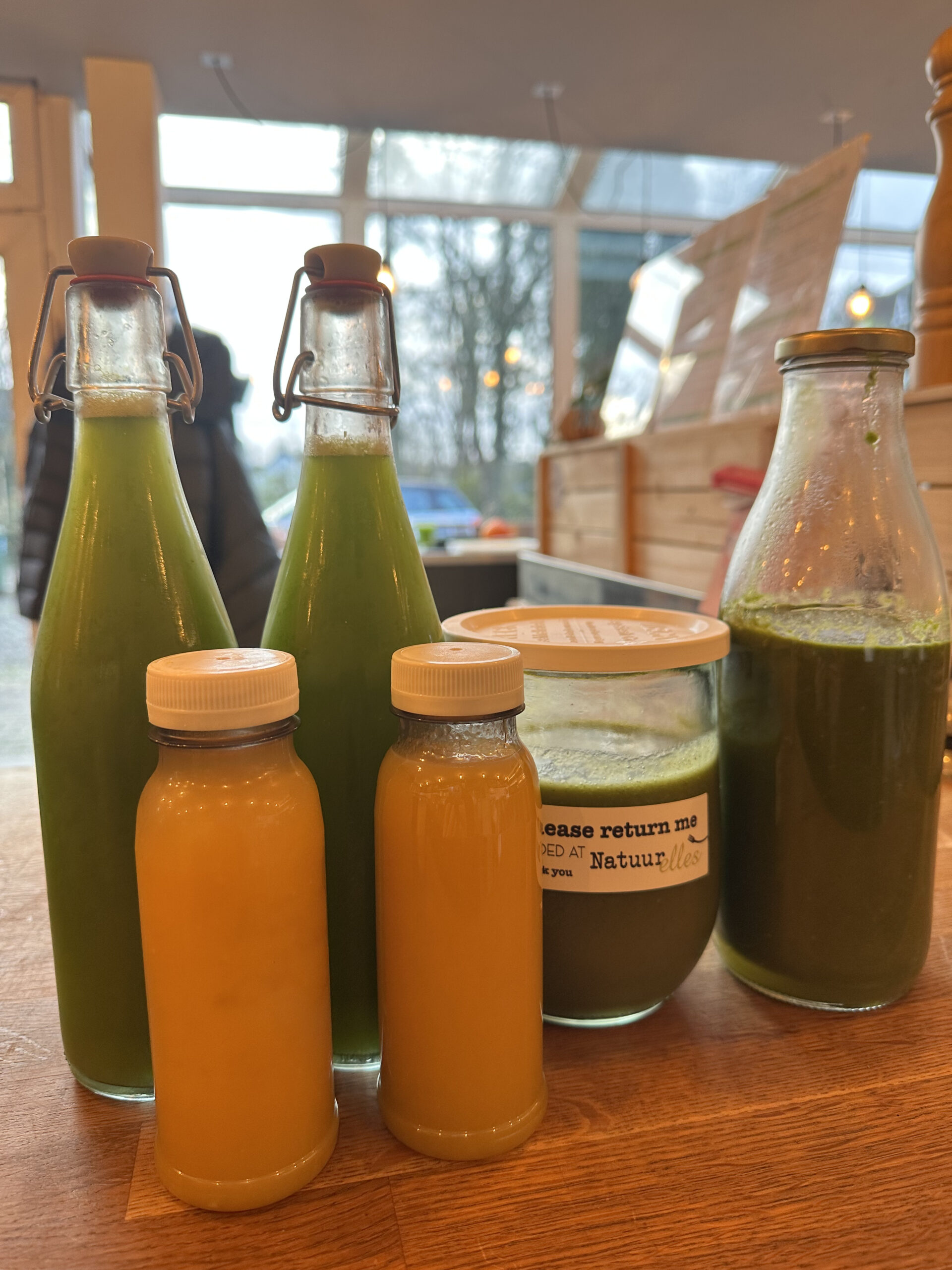 | | | |
| --- | --- | --- |
| Day 1 | Morning | Pure celery juice 500ml |
| Monday | Breakfast | Heavy metal smoothie |
|   | Lunch | Liver rescue salad |
|   | Afternoon | 2 apples and 2 medjool dates  |
|   | Supper | Steamed vegetables with potatoes |
|   |   |   |
| Day 2 | Morning | Pure celery juice 500ml |
| Tuesday  | Breakfast | Apple-cinnamon smoothie |
|   | Lunch | Liver rescue cold soup |
|   | Afternoon | 2 apples and 2 medjool dates  |
|   | Supper | Curry of seasonal vegetables with sweet potato |
|   |   |   |
| Day 3 | Morning | Pure celery juice 500ml |
| Wednesday | Breakfast | Heavy metal smoothie |
|   | Lunch | Cauliflower sushi |
|   | Afternoon | 2 apples and 2 medjool dates  |
|   | Supper | Potato with tomato stuffing and steamed vegetables |
|   |   |   |
| Day 4 | Morning | Pure celery juice 750 ml |
| Thursday | Breakfast | Pithaya smoothie bowl |
|   | Lunch | Salad with raw Brussels sprouts and mango |
|   | Afternoon | 2 apples and 2 medjool dates  |
|   | Supper | Millet risotto with mushroom |
|   |   |   |
| Day 5 | Morning | Pure celery juice 750 ml |
| Friday | Breakfast | Heavy metal smoothie |
|   | Lunch | Raw vegetables with aubergine dip |
|   | Afternoon | 2 apples and 2 medjool dates  |
|   | Supper | Potato cakes with carrot, courgette and salad |
|   |   |   |
| Day 6 | Morning | Pure celery juice 750 ml |
| Saturday | Breakfast | Apple pie with fresh fruit |
|   | Lunch | Mashed potatoes with asparagus and watercress coulis |
|   | Afternoon | 2 apples and 2 medjool dates  |
|   | Supper | Courgette lasagne |
|   |   |   |
| Day 7 | Morning | Pure celery juice 750 ml |
| Sunday | Breakfast | Pithaya smoothie bowl |
|   | Lunch | Raw vegetable salad with apple |
|   | Afternoon | 2 apples and 2 medjool dates  |
|   | Supper | Mashed sweet potato with Brussels sprouts |
|   |   |   |
| Day 8 | Morning | Pure celery juice 100 ml |
| Monday | Breakfast | Heavy metal smoothie |
|   | Lunch | Cauliflower sushi |
|   | Afternoon | 2 apples and 2 medjool dates  |
|   | Supper | Stuffed pepper and courgette with mashed potatoes |
|   |   |   |
| Day 9 |   | Last day exclusively liquid! |
| Tuesday | Morning | Pure celery juice 500ml |
|   | Breakfast | Orange juice |
|   | Lunch | Cold soup spinach and cherry tomatoes |
|   | Afternoon | Pure celery juice 500ml |
|   |   | Orange juice |
|   | Supper | Courgette basil soup |
Collection and/or home delivery
Home delivery is possible in Tervuren and sub-boroughs, Leefdaal, Sterrebeek + 49.00
Pick-up points Tervuren, Overijse and Hoeilaart
Tervuren
Natuurelles
Leuvensesteenweg 98A2
3080 Tervuren
Between 8am and 10am
Overijse
Origin'O Bioshop
Chaussée de Bruxelles 310
3090 Overijse
Between 8.30 and 18.30
Closed on Sunday, takeaway in Tervuren
Hoeilaart
't Smulhuisje
Gemeenteplein 30
1560 Hoeilaart
Between 8.30 and 17.00
Wednesday closed, but possible between 9 and 10.30 or in Overijse
Closed on Sunday, takeaway in Tervuren